Customer: Lujabetoni - Ready-mix company
Place: Lahti, Finland
Project: Arcamix concrete plant, Turbo-Max heating system and automatic fibre dosing
Delivery contents: Arcamix 3.33 concrete mixing plant, 3 x 100 m3 cement silos and steel-skid foundation, 6 x 40 m3 aggregate bins, fullu automatic fibre dosing system, and aggregate and water heating system with an additional cold water buffer tank.
In October 2018, Tecwill delivered an Arcamix 3.33 concrete batching plant to Lujabetoni Oy in Lahti. The new plant was built to produce concrete and shotcrete for the Lahti bypass project. The layout was designed so that the filling ramp of the old plant's aggregate bins could also be used for the new plant, and thus we could fit both the old and the new concrete plant on a small yard. This solution was also the most cost-saving, as the construction costs were decreased by reusing the existing filling ramp and foundations.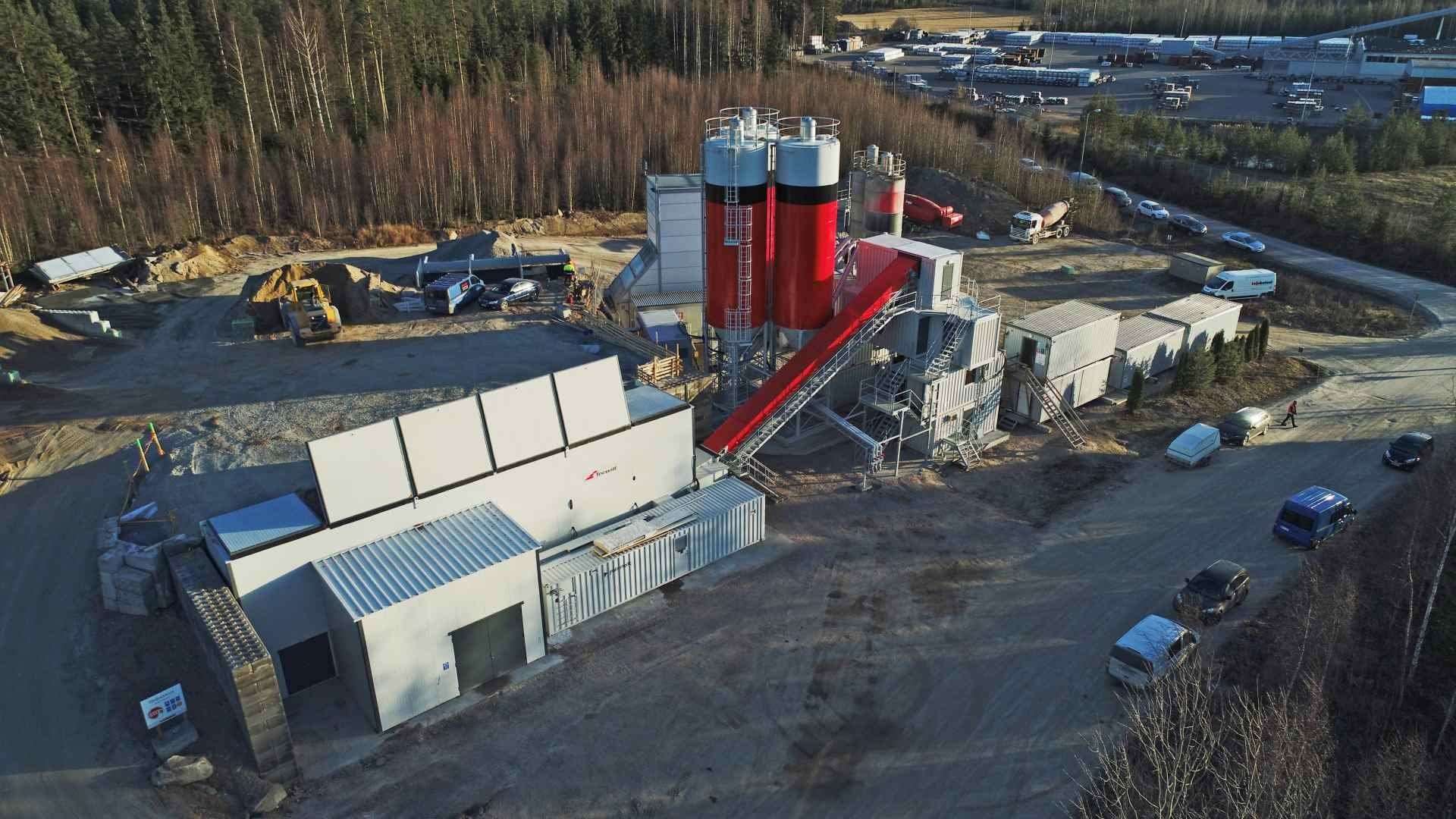 The mixing module of the Arcamix concrete plant is equipped with a 3.33 BHS twin shaft mixer with Walter automatic high pressure wash-out system. All scales have a rapid taring weight for easy checking. The aggregate moisture measurement is carried out with a Tecwill OptiMoist optical probe, which can measure the moisture content of the all different aggregate fractions passing under it. The results are processed with Tecwill's WillControl batch control system. Thanks to our "flying" weighing system, all aggregate fractions can be measured using just one probe. This way, a measurement is having much beter accuracy compared to normal probes and measuring systems.
The installation of the plant containers and modules was done over the duration of a few weeks in Lahti in the fall of 2018. The plant modules were pre-installed, pre-wired and tested in Joensuu factory before they were sent to Lahti. Only the fiber feeder module was constructed from pre-fabricated parts on site, due to its large size. By making good preparations, we were able to put the plant into operation in just a few days. In addition, the first batch of concrete ever produced at the plant was high-quality concrete that directly met the standards. The transition to production was successful without any delays, and at the same time the entire investment started to produce added value immediately.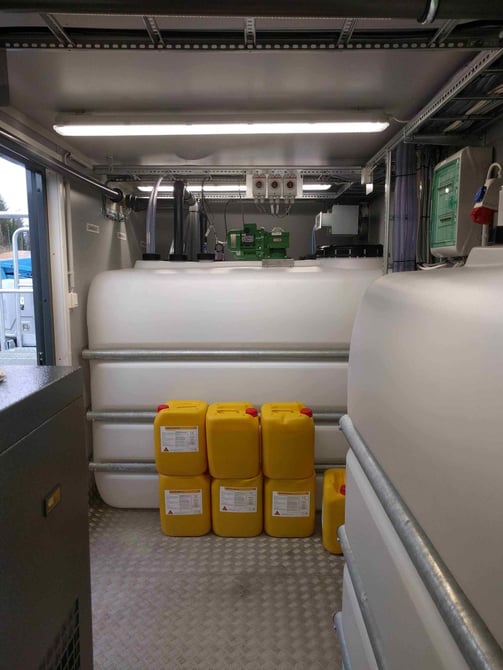 Traditionally, it cannot be estimated reliably how long it will take to fine-tune the processes at a plant until high-quality concrete is produced at the beginning of the start-up built on site. This might take a day or two - or even weeks. In addition, the rush of the installations in the field and poor installation conditions (weather conditions, temperature, lighting conditions etc.) and lack of installation materials can together lead to installation errors and other deviations from the plan. These interferences can lead to documentation such as electrical diagrams, mechanical drawings and spare parts no longer being up to date. Furthermore, this might lead to delays in the transition to production or result in later defects.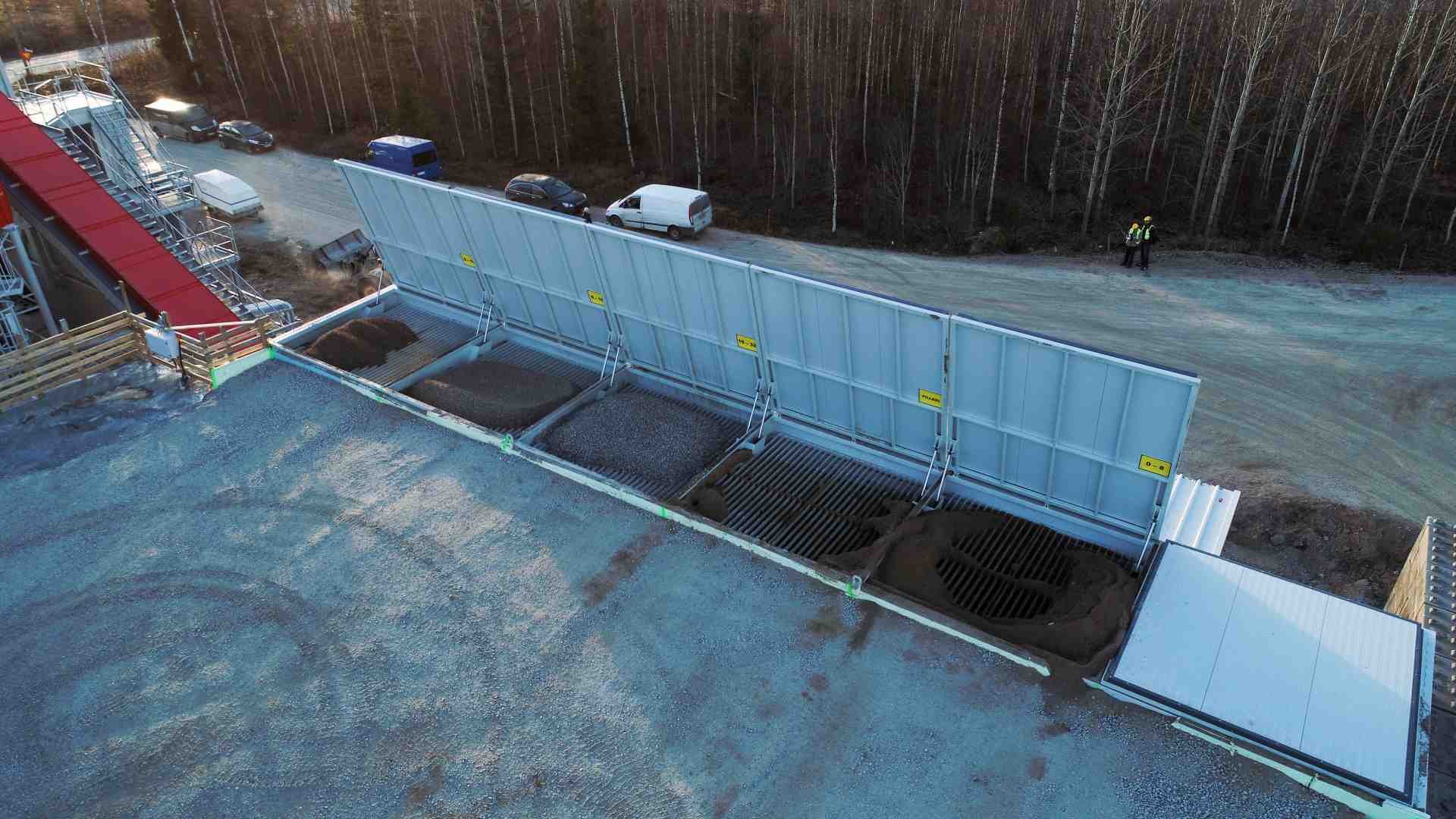 At the Arcamix concrete plant, high-quality concrete and spray concrete is produced. This is achieved e.g. with the WillControl batch control system, which utilizes AI based mathematical models built for each dosing device and improves the repeatability of dosing without losing its production capacity. This model reduces the dispersion of concrete strength, which reduces e.g. the need for extra cement in concrete. A small overall variance in the concrete production process also reduces possible reclamations from customers. This is how the WillControl control system and Tecwill's dosing equipment together improve the profitability of production. In addition, correctly dimensioned concrete plants and their correctly sized motors reduce quality variation and also save electrical energy.

Tecwill's Arcamix plant is also supplied with a maintenance program to keep maintenance costs low. When you take care of replacing defective or soon-to-be-failed (wearing) parts at the right time, you can significantly reduce downtime, troubleshooting and repair costs, not to mention production losses.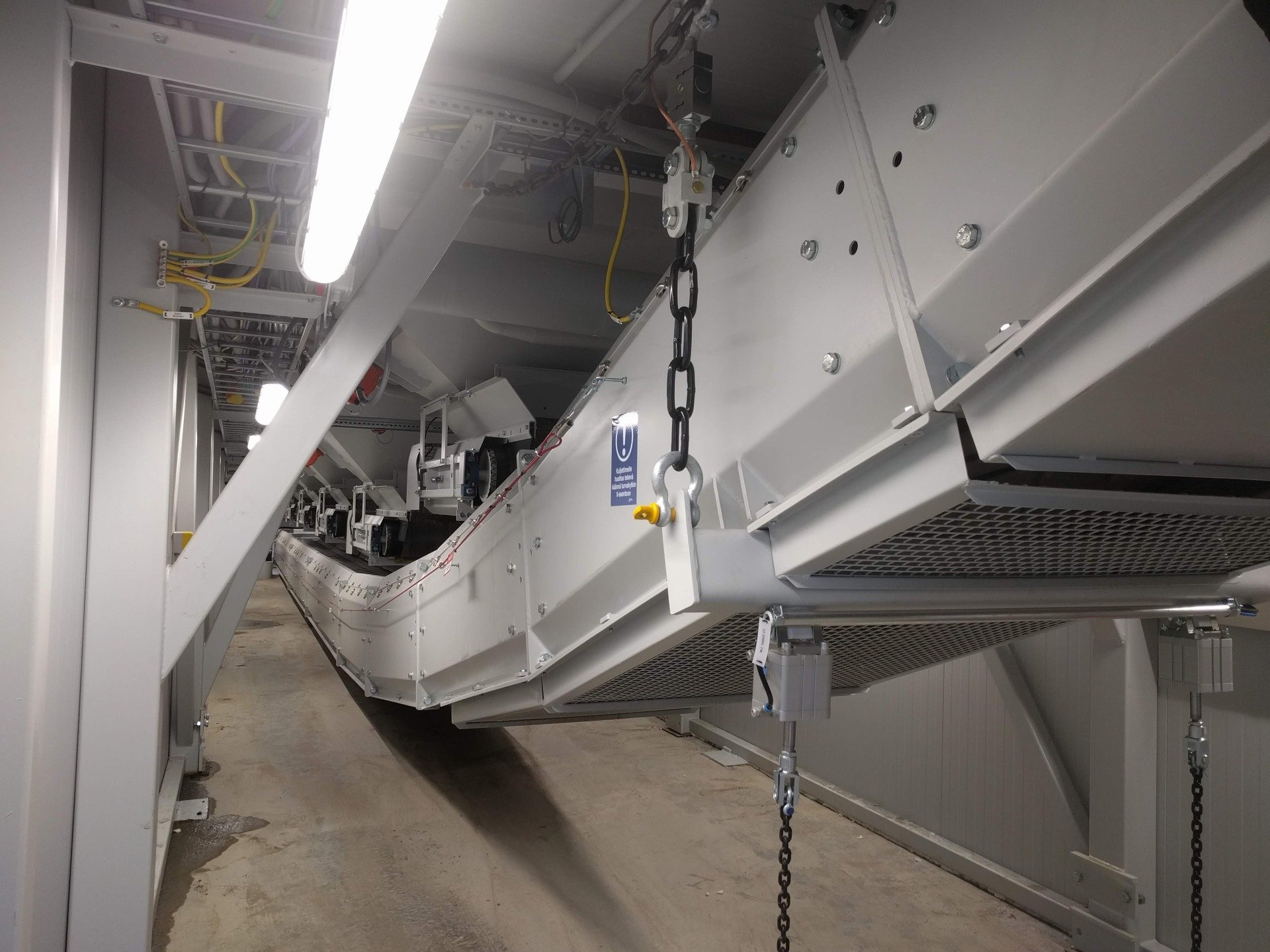 In the Lahti project, Lujabetoni Oy wanted to secure reliable and stable production of high-quality ready-mixed and fiber concrete all year round. By choosing Tecwill's Arcamix concrete plant, the customer will benefit from great service, maintenance, possible expansions of the control system, the electrical system, or mechanics to be implemented more easily in the future. In addition, the modular structures used in the Arcamix plant and the quick connector solutions between them make moving and reinstalling the plant easy.

At Lahti's Arcamix 3.33 concrete plant, ready-mixed and fiber concrete is produced for the needs of Lujabetoni Oy's customers.