Precast elements and concrete products
The best concrete in the world for precast elements, paving stones and concrete blocks.
Tecwill concrete plant for precast factory and concrete products
In a precast plant, each batch must be produced within the required dosing, moisture and temperature tolerances to ensure the highest quality product. Tecwill has developed the following unique features to guarantee homogeneous production:
Improved aggregate moisture control leads to the right slump and water-to-cement ratio
Automatic self-learning control of dosing deviation results in huge production savings, both in time and materials
Precise batch concrete temperature
The concrete batch plant is integrated within the precast factory, including concrete distribution, order points, aggregate and the water heating system
Modular construction of concrete mixing plant
Modules of the Tecwill precast factory concrete plant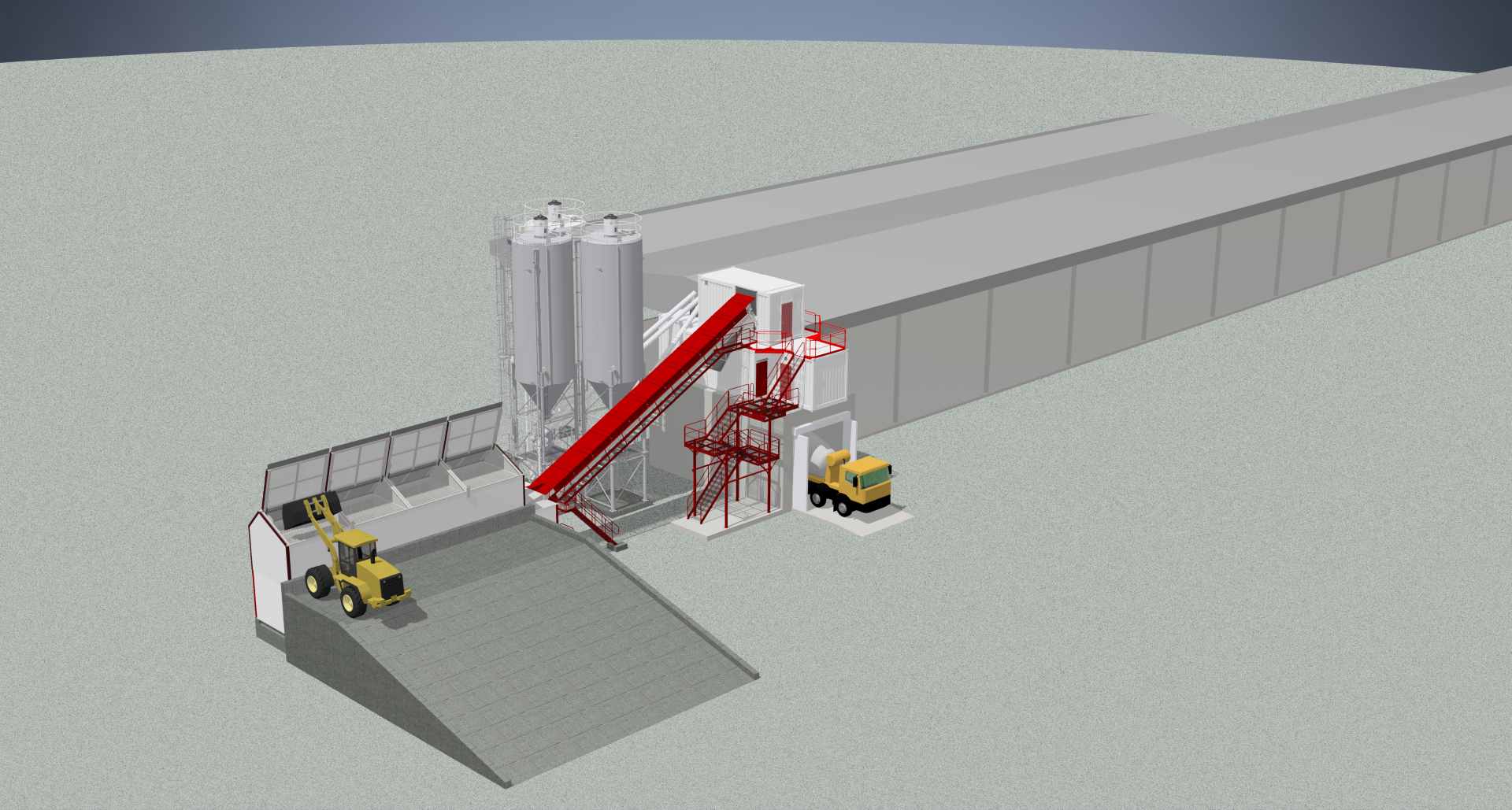 Concrete distribution system to production hall, shuttle - flying bucket
Order points / delivery points in production hall
Cement and other binder silos
Aggregate and water heating unit
Basic or large delivery
Delivery of a precast factory concrete plant
Our modular and high-performance precast plants are designed according to our customers' needs and to suit their precast factory layout. Our precast concrete plant can be winterized while maintaining the tightest tolerances in the industry. All plants are pre-wired and tested before being shipped.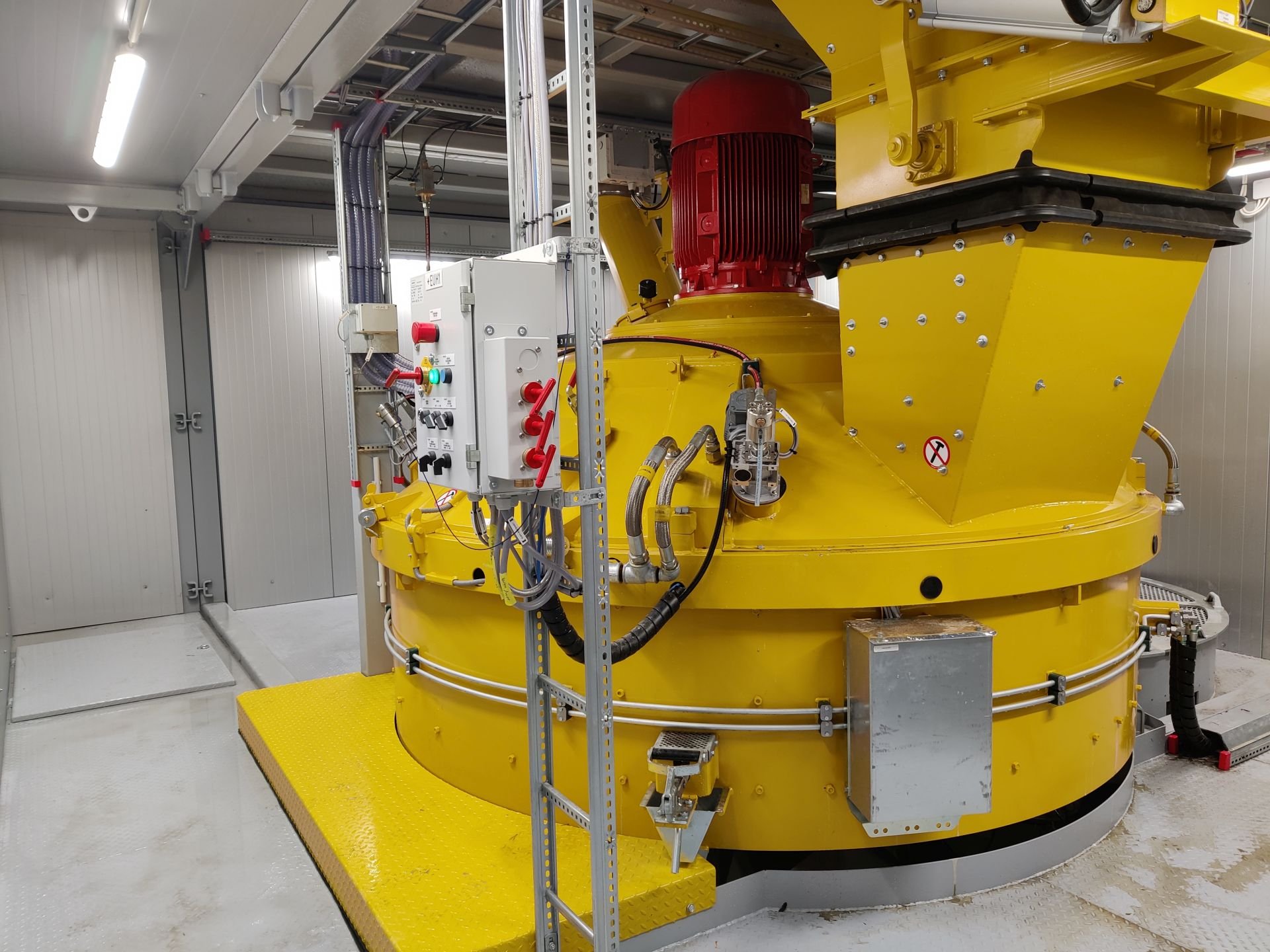 A precast plant delivery process
First meeting
Layout and technical solution
Schedule, contract and budget
Manufacturing
Transport and installation
Production start
Production monitoring and optimization
Product line
Precast and concrete product factory concrete plant models
Our plants can produce all types of concrete for high-quality precast products, including:
Wall panels, beams and pillars
Steps, septic tanks and stormwater elements
Piles and poles
Hollow-core slabs with low slump concrete
Elements with self-consolidating concrete
Masonry elements, blocks and paving stones
Colored concrete using powder, C pigment or granule pigments
Benefits and savings
Why choose Tecwill – how are we different?
Based on AI developed
in-house, Tecwill's
dosing and weighing algorithm guarantees
high-quality precast concrete.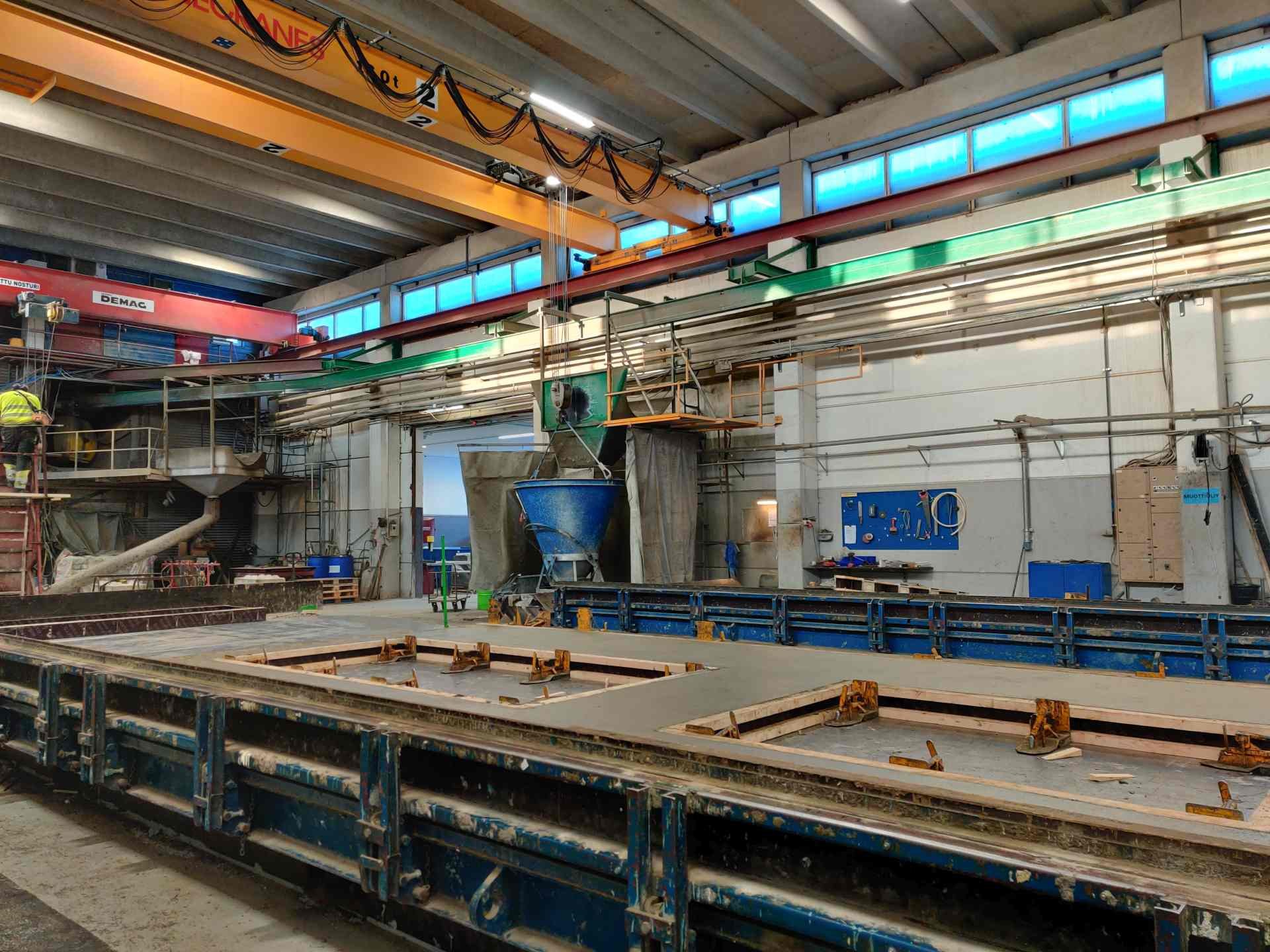 In a precast plant, each batch produced must be within the required dosing, moisture and temperature tolerances.
Homogenous mixing
Right temperature
Correct slump for wet and dry mixes
Tecwill's high-precision "flying" weighing system saves up to 30 kg/m3
(50 lb/yd3) in cement and reduces CO2 emissions in concrete production.
Our "flying" aggregate weighing system eliminates the need to add extra cement to the mix design to compensate for inaccurate weighing and dosing.
More accurate weighing
Less cement
Correct slump
Tecwill's modular construction makes the concrete plant fast to
install and easy to adapt
to a precast factory layout.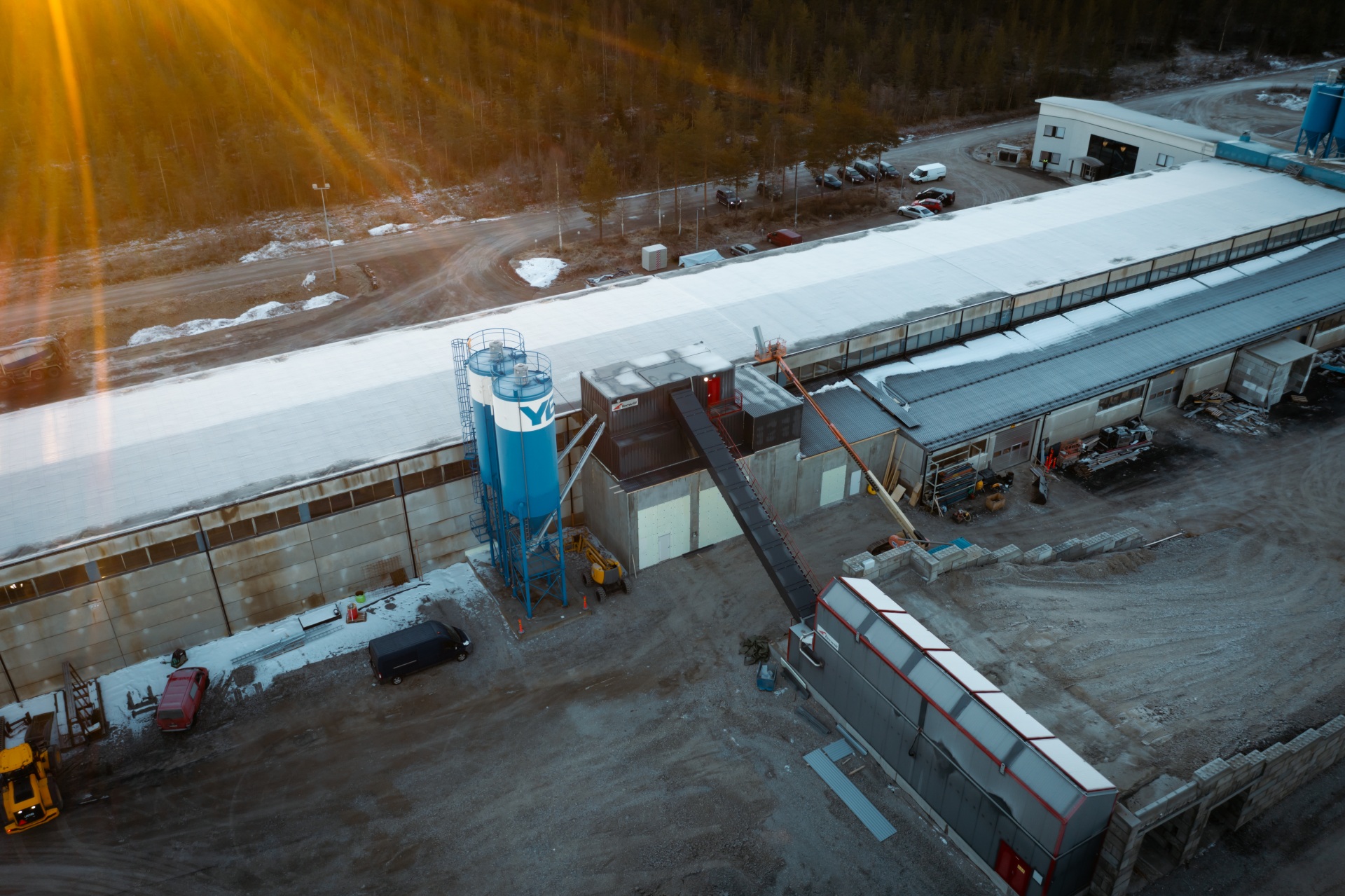 Tecwill preassembles the complete concrete plant at its own factory. This includes pre-wiring, piping, thermal insulation enclosure and plant testing. This guarantees a reliable solution for producing:
All kinds of precast elements
Blocks and paving stones
Hallow-core slabs
Masonry elements
FAQs
Frequently asked questions
These are questions we're often asked. We hope you find these helpful.
If you still have a question we haven't addressed, please contact us directly.
What kind of mixer is suitable for the production of precast elements and concrete products?
Traditionally, a planetary countercurrent mixer is used to make precast concrete. This is the best option because of mixing efficiency. It is easy to put several discharge hatches in the planetary mixer, for example, due to the shuttle system for the drain washing water. Maintenance is also easy thanks to the large deck hatches.
Tecwill precast concrete plants are equipped with a durable and high-quality planetary countercurrent mixer. The mixer features:
A homogenous mix with a shorter mixing time
Easy maintenance with large service doors
Wide range of options, including moisture and temperature probes, a high-pressure cleaning system, sampling and mixer camera
Multiple discharge gate options
What is the best way to distribute concrete to the precast factory?
The most suitable method is determined by the size of the precast factory. At a small factory, concrete can be moved in a casting hopper by a bridge crane.
In a larger factory, a casting hopper is too slow. A shuttle and track system are needed to move the concrete from the mixer to the casting points.
There may be several casting points at a large factory – some fixed and others mobile casting machines – to produce hollow-core slabs, for example.
Why is accurate measurement of aggregate moisture important in the manufacturing of precast elements and concrete products?
When manufacturing, each batch is poured into the precast element or concrete products. If the amount of water in the concrete batch is incorrect, elements will have a tone or quality variation manifested as a difference in color or strength, for example.
Accurate aggregate moisture measurement and the right water amount in the batch will reduce quality issues with the concrete.
How do you mix self-consolidated concrete?
Self-consolidated concrete or self-compacting concrete (SCC) is a highly "liquid" mix that flows easily and compacts under its own weight. A high-range superplasticizer (water-reducing admixture) is used in the mix.
The traditional mixing method is to first mix the dry ingredients – cement and aggregate – and adjust the batch moisture. Then, water and a superplasticizer are added. The mixing time of this method is very long, reducing plant capacity and increasing wear on the mixer.
Tecwill's wet method improves moisture control. The artificial intelligence-controlled dosing and weighing ensure accurate amounts of materials for each concrete batch. The mixing uses the so-called "wet mixing" method, which shortens mixing time and improves capacity.
Tecwill in brief
30 years of experience designing and manufacturing concrete plants
Our technology significantly reduces CO2 emissions from concrete production
Global operations
Head office, assembly factory and testing facility in Joensuu, Finland
300
concrete batch plants
Looking for a right solution?
Contact our experts
Our experts will provide you with more information about our solutions.