Aggregate and water heating
Reliable year-round operation
Requirements for a cold weather concreting, aggregate and water heating system
To produce concrete in cold weather, a concrete plant must be prepared for winter operations. Heating a plant is not enough. You will also need:
A correctly dimensioned heating plant to heat aggregates and hot water
A properly designed insulated bin construction
A heat distribution system for bins
Insulated water pipes
Control system for heating and concrete temperature control
The effective Tecwill aggregate and water heating system connected to a Tecwill aggregate bin construction guarantees high-quality concrete production, even during the coldest winters.
The heating system heats the aggregates in the bins by using turbo gas at a temperature of 250–300 °C. At the same time, the system also heats any hot water needed for the production and heating of the concrete plant's premises.
Precise concrete temperature – total control in cold or hot weather
Concrete can be produced at the required temperature
Increased plant capacity with less fuel consumption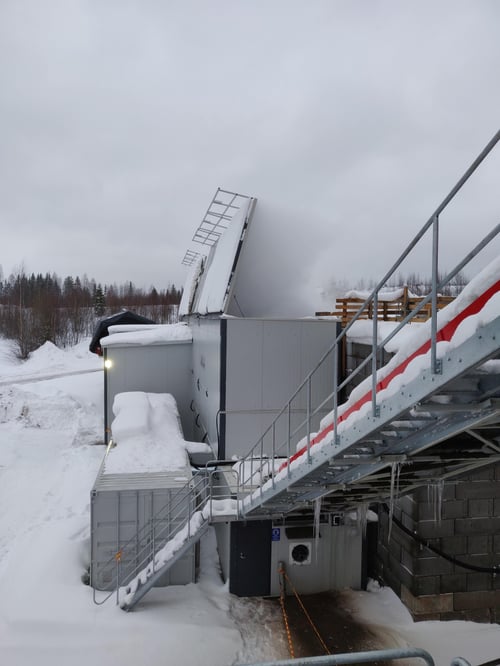 Better temperature control
Concrete production controlled at the desired temperature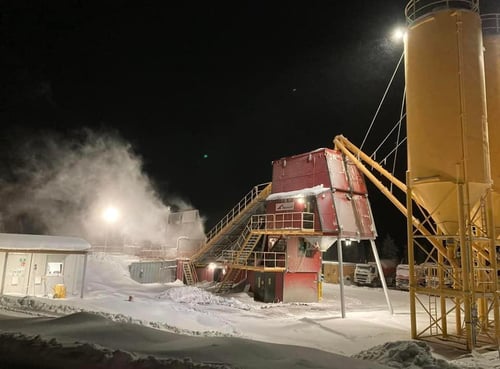 To produce concrete at a desired temperature, the system uses the WillConHot program. After defining the target concrete temperature in the batch control system, the program takes into account the raw material temperatures. The concrete temperature is measured in the mixer. If needed, the actual value can be printed on the delivery note.
Water heating and automatic hot water dosing
Measured material temperatures
Desired target temperature for concrete in the batch control system
Options for heating system
Heating systems for a ready-mix concrete plant and precast factory concrete plant
To produce concrete in cold weather, a concrete plant must be prepared for winter operations. Various heating system options are available according to customer needs.
Heating plant with a capacity of 0.5–2.5 MW (1.7–8.5 MBTU/h)
A combined aggregate and water heating plant is dimensioned according to the concrete output in cold weather and the hot water output needed for concrete production, facility heating and truck filling. The hot water tank size can range from 6–12 m3 (1,600–3,200 gal).
Heating plant for extreme conditions
In very extreme conditions, a heating plant can be prepared for continuous 24/7 operation to heat aggregates on bins and prepare the required amount of hot water.
Diesel oil, gas or propane burner
The burner at the heating plant can use light fuel oil, natural gas or propane. The heating plant can also be equipped with an integrated light fuel tank.
Preassembled enclosure and winter equipment
If the concrete plant is not properly prepared for winter operations, the aggregate heating system does not help much. In a Tecwill plant, the enclosure and all winter equipment can be preassembled already at our factory. No disassembly is required when moving the plant to a new location.
Preassembled water pipes
All cold and hot water pipes in the concrete plant can be preassembled already at our factory. The water pipes are installed in a thermally insulated pipe tunnel, where they are protected against frost. This significantly reduces installation time at the site.
Preassembled aggregate heating pipelines and valves
Preassembled and prewired heat pipes and valves can be assembled already at our factory. This enables fast installation and startup, even in winter
Heat distribution elements for bins
To ensure proper smelting and heating of aggregates, especially sand, correctly dimensioned heat distribution elements for bins are needed.
Integrated cold water tank
If the water supply is insufficient, we can deliver a cold water buffer storage with the heating plant. A cold water tank is placed in an insulated container. Any cold water required for concrete production will be pumped from the tank directly to the water scale.
Heating and curing system for a precast factory
The Tecwill aggregate and water heating system can be extended to heating and curing casting beds and molds at a precast factory.
The heating and curing process is automated according to the temperature and the curing cycle of the precast elements, concrete blocks or paving stones.
What's new?
Testimonials, case studies and blogs
Testimonials and blogs about our delivery of our concrete batching plants to various projects.