Revolutionary batch plant solutions for 3D concrete printing
3D concrete printing companies often struggle with concrete quality issues. The batch slump varies, and printers are prone to breaks. Instead of concrete, printing companies are forced to use mortar, which is more expensive and has a very high cement content. Ultimately, this results in higher carbon emissions.
With our 3D-Mix concrete batch plant, you can effortlessly print houses with concrete.
By incorporating a bigger aggregate size of up to 1/2" (12 mm), you achieve enhanced volumetric stability of the concrete. This, in turn, enables increased printhead speed and makes it possible to construct multi-floor houses.
Our 3D-Mix concrete batch plant:
Can mix concrete instead of mortar
Reduces out-of-spec concrete
Ensures fewer printer breaks
Saves cement and reduces carbon emissions
Super-mobile 3D-Mix plant in a single unit
Tecwill 3D-Mix plant set-up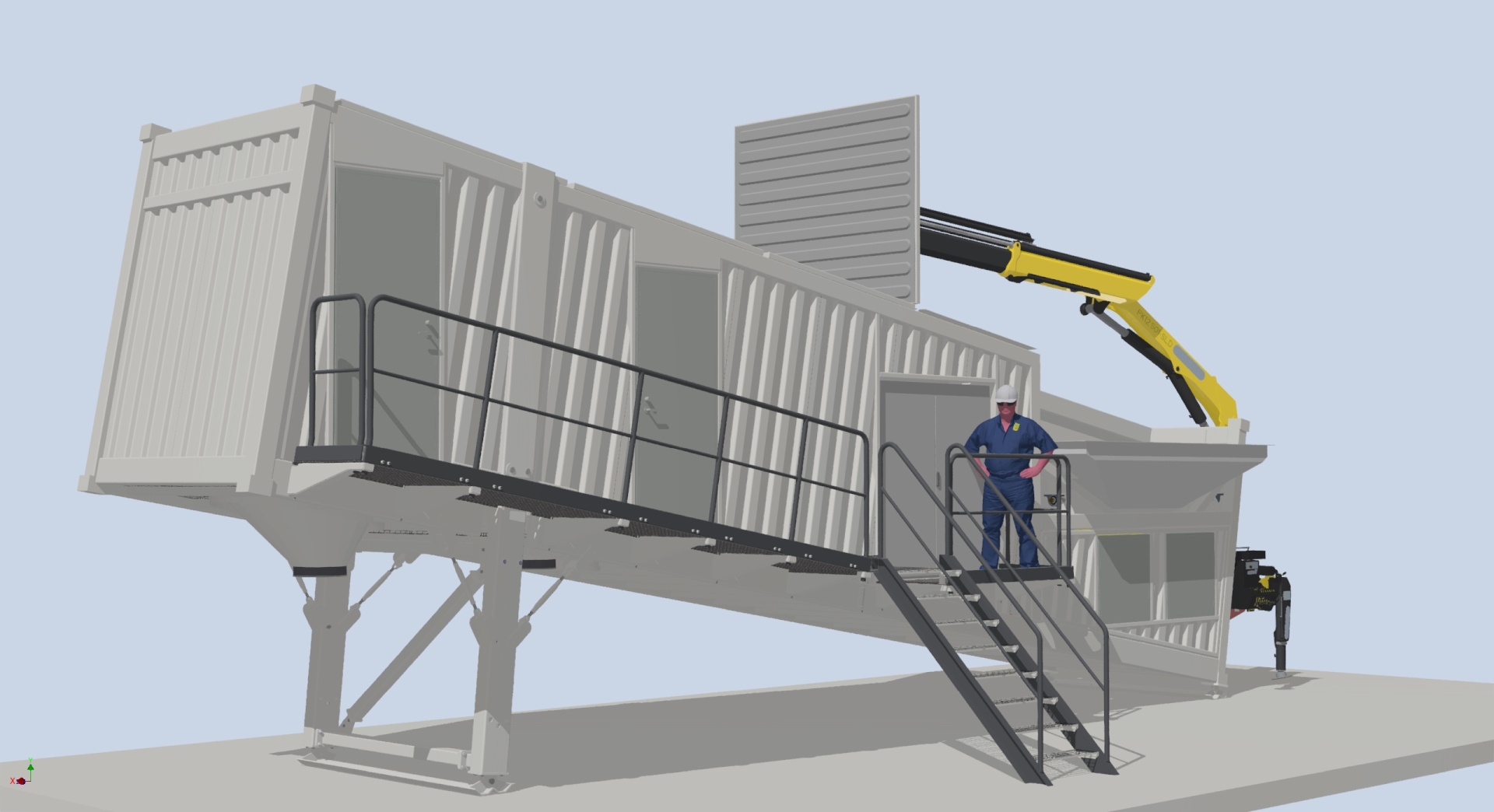 3. On-board admixture and water tanks
4. Aggregate weighing and moisture control
6. Cement and admixture scale
8. Aggregate / cement loader
9. Tecwill fully automatic portable batch control system
The same plant for all mix designs – no external ready-mix concrete vendor needed
3D-Mix plant for both ready-mix and 3D printer concrete
The multifunctional 3D-Mix batch plant can produce different mix designs, including:
Concrete for 3D printing
Ready-mix concrete from the foundation, walls and other structures to the floors
Paving concrete for sidewalks and roads
Self-consolidating concrete
Precast concrete
Zero-slump concrete
Colored 3D concrete using powder, C pigment or granule pigments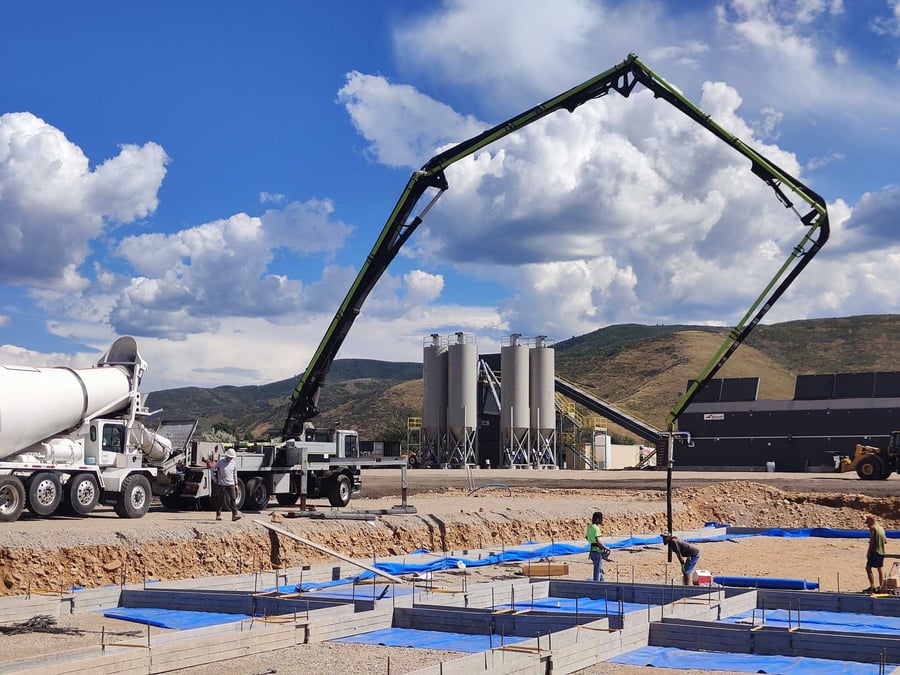 Benefits and savings
Why choose Tecwill – how are we different?
Instead of using cement-heavy mortar, the 3D-Mix plant allows for the use of concrete.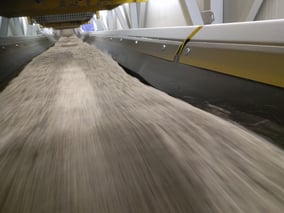 Tecwill's high-precision AI-controlled "flying" weighing system with OptiMoist moisture control.
Bigger aggregate size of up to 1/2" (12 mm)
Better strength of the printed structure
Less cement and admixtures
Correct slump
Possibility of building multi-floor printed houses
Unique Tecwill 3D-Mix plant superiorities reduce CO2 emissions.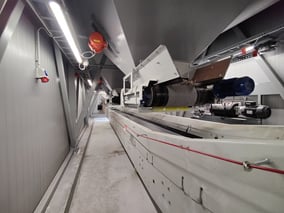 Unlike conventional technology, a Tecwill 3D-Mix plant can reduce carbon emissions.
Mixes concrete instead of cement-heavy mortar
Improves aggregate moisture control
More accurate weighing
Better temperature control
Pre-wired and tested self-erecting super-mobile 3D-Mix plant in a single unit.
Tecwill preassembles the 3D-Mix plant at its own factory. This includes pre-wiring, piping, enclosure and plant testing. As a result, you get:
Fast set-up time
On-board admixture and water tanks
Automatic delivery of multiple liquid admixture scales
Pre-wired for US 480 V, Canada 575 V UL/CSA approved and Europe 400 V
Frequently asked questions about 3D concrete printing
FAQs
These are questions we're often asked. We hope you find these helpful. If you still have a question we haven't addressed, please contact us directly.
What are the common challenges faced by concrete plants when it comes to 3D printing?
When producing 3D-printed concrete – not mortar – it is necessary to achieve sufficient pumpability and buildability characteristics. In 3D printing, these go far beyond the usual standards for conventional concrete.
The plants must work with high cement content and aggregates of up to 1/2" (12 mm). They also must use multiple admixtures with automatic dosing and accurate (not volumetric) scales. Plus, integration of the accelerator at the nozzle head enables rapid setting of the mix.
The process of producing 3D-printed concrete mandates an exceptional level of precision in the dosing and weighing of all materials. Simultaneously, it involves accurate moisture management and temperature control. A small mistake in slump quality can ruin the batch, block the printer or compromise the structural integrity.
A common mistake occurs when concrete producers attempt to use a standard batch plant for 3D-printed concrete production. Such plants are unable to meet the required tolerances, leading to operational challenges.
HOW DO TECWILL 3D-MIX PLANTS DIFFER FROM TRADITIONAL BATCHING PLANTS?
We have developed a completely new "flying" aggregate weighing system equipped with improved OptiMoist aggregate moisture measuring technology that ensures accurate dosing of raw materials.
Normally, mortar is used to print houses. It is a very expensive cement-sand mix. At the same time, it is brittle and lacks sufficient tensile capacity. Because of the high cement content, the price of such a house is unnecessarily expensive.
With our technology, you can use concrete for 3D-printed houses. Concrete has higher aggregate content and less cement. The price of such a house is lower, and less carbon is emitted during production.
With Tecwill's 3D-Mix plant, you can produce all types of concrete mix designs needed for the project, including:
Concrete for 3D printing
Ready-mix concrete
Roller-compacted concrete
Precast concrete
WHAT BENEFITS DOES THE USE OF CONCRETE PROVIDE FOR 3D-PRINTED HOUSES?
Bigger aggregate size of up to 1/2" (12 mm) can be used
Lower cement content and smaller carbon footprint
Improved volumetric stability of concrete due to coarse aggregate
Decreased hydration heat and shrinkage due to coarse aggregate
Greater stability and strength of the printed structures
Stronger multi-floor printed houses


Tecwill in brief
30 years of experience designing and manufacturing concrete plants
Our technology significantly reduces CO2 emissions from concrete production
Global operations
Head office, assembly factory and testing facility in Joensuu, Finland
300
concrete batch plants
Looking for the right solution?
Contact our experts
Our experts will provide you with more information about our solutions.