Mixer batch size significantly affects the production capacity of a concrete mixing plant. In this blog, we will explain how to choose a concrete mixer to keep investment as low as possible while still achieving the required production capacity.

There are many different types of mixers for concrete batching plants. The most common are:
Planetary mixers
Twin-shaft mixers
Tilting drum mixers
Reversing drum mixers
When investing in a concrete mixing plant, the bigger the mixer, the higher the investment cost. This rule remains the same for all types of batch plants, whether you are considering a mobile concrete batching plant, a portable one or a central mix plant.
Why larger mixer size doesn't always mean higher capacity
The maximum hourly production capacity of a mixer is calculated by multiplying its maximum batch capacity by the number of mixing cycles per hour. The duration of a mixing cycle is calculated by summing up filling, mixing and discharge times.
A mixer's batch size does not affect mixing time, but it does affect filling and discharge times. The bigger the batch size, the longer it takes to fill and discharge the mixer. As a result, a smaller mixer can complete more mixing cycles per hour than a bigger one. This is why a larger mixer size doesn't necessarily lead to increasing concrete plant capacity.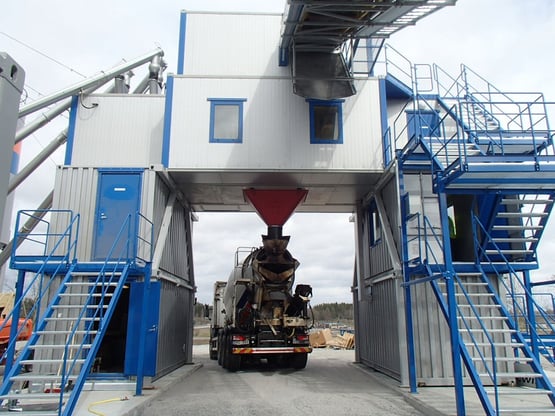 Consider concrete demand and transport equipment
To determine the best concrete mixer size, two factors must be considered: the actual volumes of concrete required and what kind of equipment will ship it. Demand and transportation methods differ for ready-mix concrete factories, shotcrete plants, element factories and block factories.
The hourly amount of required concrete generally determines the maximum production capacity of the mixer. Investing in a very big mixer is not cost effective if its capacity is not fully used because of low concrete demand.
Concrete transport equipment is also important in determining the size of the mixer. It is not worth investing in a mixer with a capacity of 5 cubic yards (4 m3) if the truck mixers used to transport the concrete are 12 cubic yards (9 m3). In this case, a mixer with a capacity of 4 cubic yards (3 m3) would be the more cost-effective choice. The number of trucks must be considered as well. A bigger mixer is worthwhile only if enough vehicles of the right size are available.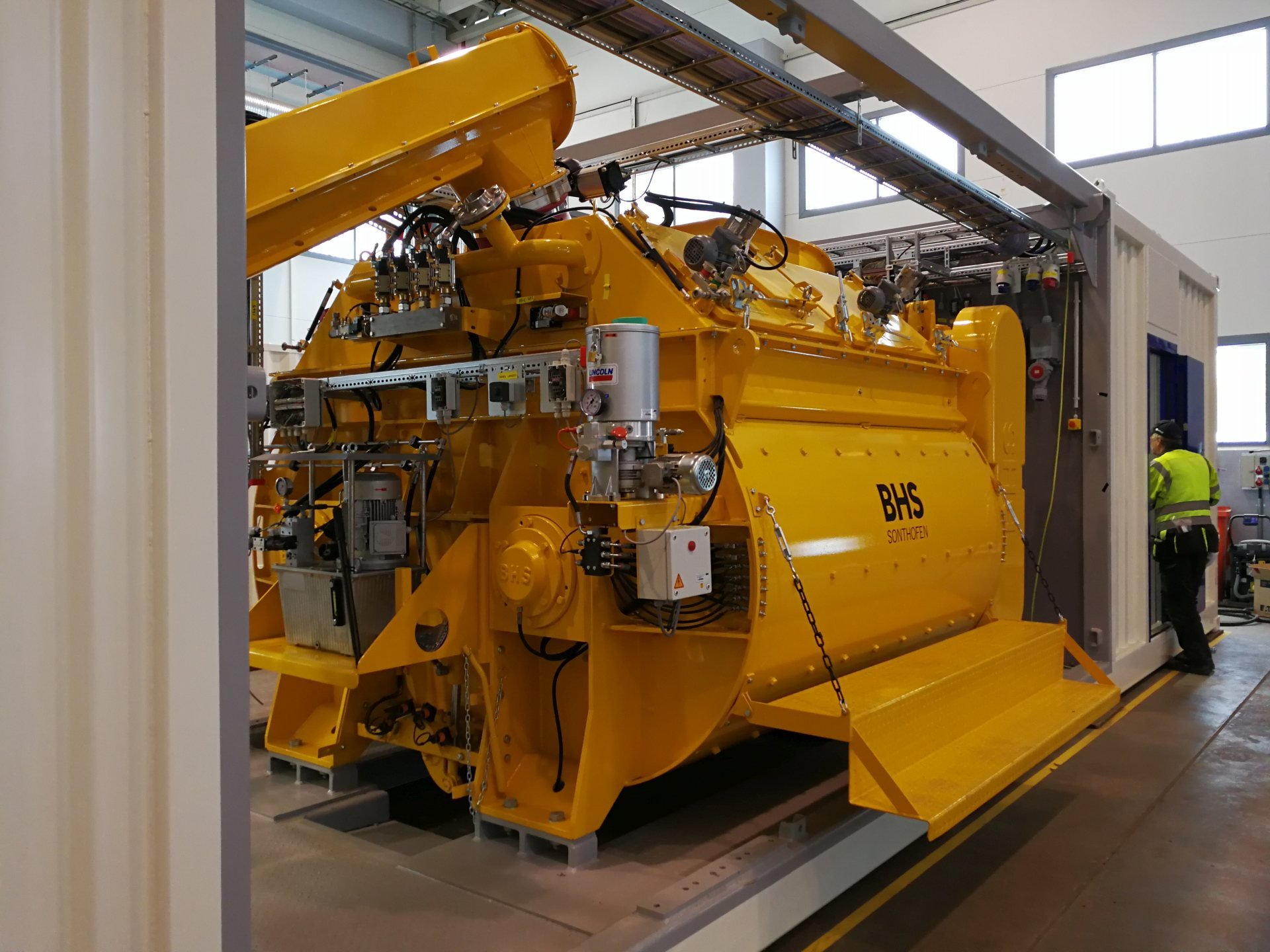 Other factors to consider when selecting a mixer
Production has to run without interruption to achieve maximum capacity. For highest efficiency, everything else at the concrete mixing plant must be dimensioned to fit the size of the mixer.
Dosing device cycles must be set so that when the previous dose is discharged from the mixer, the next one has already been weighed on the scales and prepared for the mixing action. This way, the mixer can be filled again immediately, with no delay.
Note also that each mixer has a minimum concrete requirement to guarantee proper mixing results. The bigger the mixer, the larger the minimum requirement. In turn, the dosing device deviation is dimensioned according to the highest dose. With a higher deviation, weighing small quantities with the precision required by standards is more challenging.
In addition, a concrete mixing plant must always have a sufficient stock of raw material for maximized efficiency. A bigger mixer is of no use if the water line does not feed water fast enough or if one of the silos is empty when the dosing takes place.
Similarly, the heating system at the construction site must be efficient enough to meet available capacity when producing concrete under winter conditions.
All other components of the concrete batching plant should be dimensioned according to the mixer batch size as well. This includes:
Cement augers
Cement silos
Aggregate conveyor belts
Aggregate bins
Concrete admixture dispensing equipment
Fiber dosing system
Aggregate moisture probes
Flying buckets used at precast factories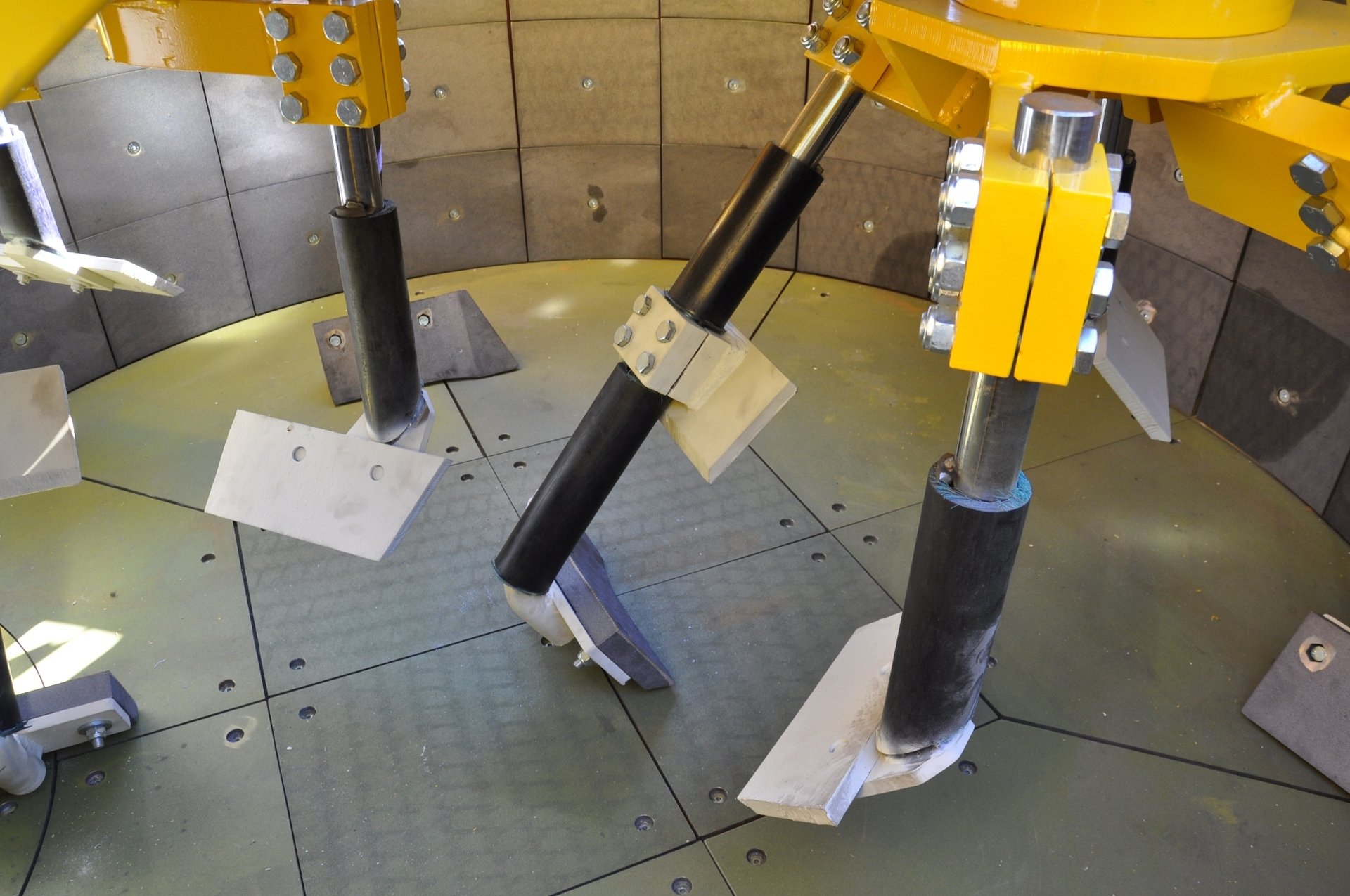 Summary
A concrete mixer is only one factor affecting concrete mixing plant production capacity. Determining the right size can only be done by looking at the whole picture.
The size of the mixer calls for an appropriate plant structure and suitable equipment. It also affects electricity, water, heating energy and raw material needs. It has a direct impact on the maintenance costs and the cost of the entire investment. Therefore, only a mixer properly dimensioned for demand, equipment and other supplies can produce concrete cost effectively.
Tecwill offers a wide range of concrete mixing plants for any capacity requirements – from small to very large jobs. If you are considering investing in a concrete mixing plant, we can help you determine the most suitable solution for your needs.
And in our next blog post, we'll share some practical tips on how to achieve the optimal capacity of your concrete mixer at a ready-mix concrete plant or precast batch plant.
---