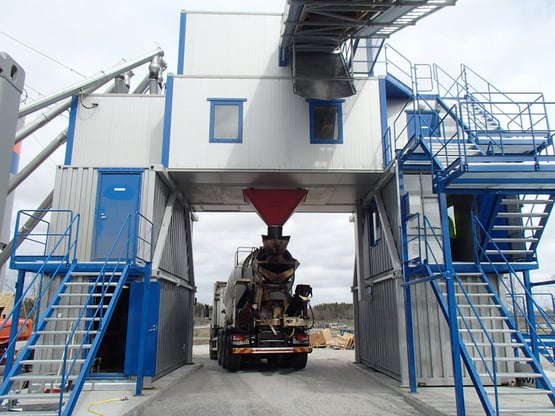 Continuous concrete production with stationary as well as with mobile concrete mixing plant requires sufficient stock of raw materials. Despite the necessity of having to stock large volumes of raw materials, the work environment needs to be safe and working conditions should be comfortable. This often causes challenges, especially if mobile concrete plants are concerned.
On one hand there is a need for adequate space and storage capacity however, any empty space increases transport costs when moving a plant. On the other hand, if the plant itself doesn't offer sufficient storage capacity, in a lot of cases storage containers have to be added later.
In northern regions cold winters can cause challenges too. To avoid interruptions of the production due to frost, it is extremely important to ensure that the facilities are thermally well insulated. With the design and construction of a plant therefore needs to be taken into account the minimization of cold spots to reduce the waste of heat and by this to reduce energy costs.
---
Container structures
A concrete mixing plant that is based on sea container dimensions is equipped with factory insulated and electrified structures. These modular structures are not only used as frame structures but at the same time serve for other functions and provide storage space.
The supporting structures consist of empty containers on the ground level, eventually including an admixture container on one side, on the first floor level followed by a control container for the operator and e. g. a laboratory container to locally allow permanent control of the concrete quality. The mixer container and the scale container are located on the second floor. The aggregate unit with bins and dosing as well as weighing devices is connected with the mixing unit by an inclined belt conveyor (small plants: bucket conveyor).
---
Summa summarum
The well organized storage of raw materials and the efficient use of the plant facilities make sure that the factory area at all times provides a clean and safe work environment. If necessary, the relocation of the concrete mixing plant to a new construction site can be carried out quickly.
The aggregate bin unit as well as the scale and mixer container together with the container structures can be transported with just a few trucks in one go. This keeps the transport and reinstallation costs low and allows to very quickly get started again with the concrete production at the new location.
---
Read more about mobile concrete mixing plant »
---