Change opens up new opportunities
When Betong Øst needed to relocate their concrete production, they wanted a new site that gave them greater capacity and a location that would let them serve a wider area. They also wanted a whole new concrete mixing plant – high end and meeting all of the requirements of modern concrete production.
Their previous location in downtown Brumunddal, in the Ringsaker municipality about 150 km from Oslo, had been too close to a residential area that was expanding. Based on the agreement, the plant should cease its operations as soon as all necessary concrete deliveries for the E6 highway project had been completed. Once the plant was demolished, construction of residential buildings would begin at the site. The new location in the Rudshøgda industrial area is on the E6 – with easy and quick concrete deliveries to both Brumunddal and Moelv.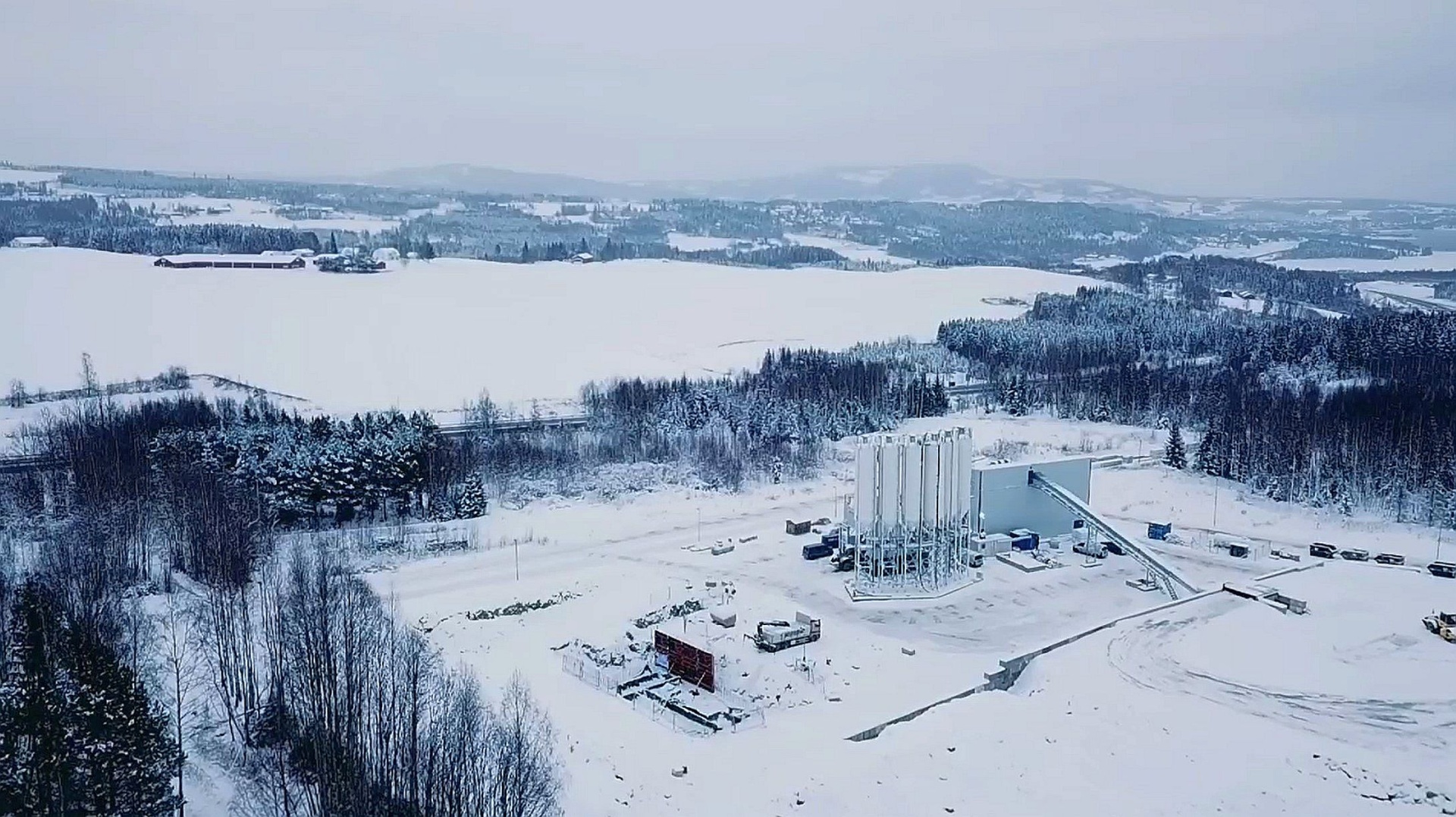 Commissioning and startup in three weeks
Betong Øst has been operating with Tecwill's Arcamix plants and "flying" weighing system for several years now and knows our solutions firsthand. They have been very satisfied with an earlier delivery of an Arcamix 4.0 concrete plant, delivered in 2019.
For this project, they selected Tecwill's Arcamix 2.5 concrete batch plant with a "flying" aggregate dosing and weighing system. The new plant for the Rudshøgda plant was delivered at the end of 2021.
Among other special plant features it included a drive-over aggregate receiving hopper.
Installation and commissioning of the new plant took 2.5 weeks. The control system testing then followed.
"Communications throughout the entire delivery process were highly professional. The Tecwill supervisor at our site was very skillful and good at management. Everything went smoothly," says Frode Bakkestuen, District Manager at Betong Øst.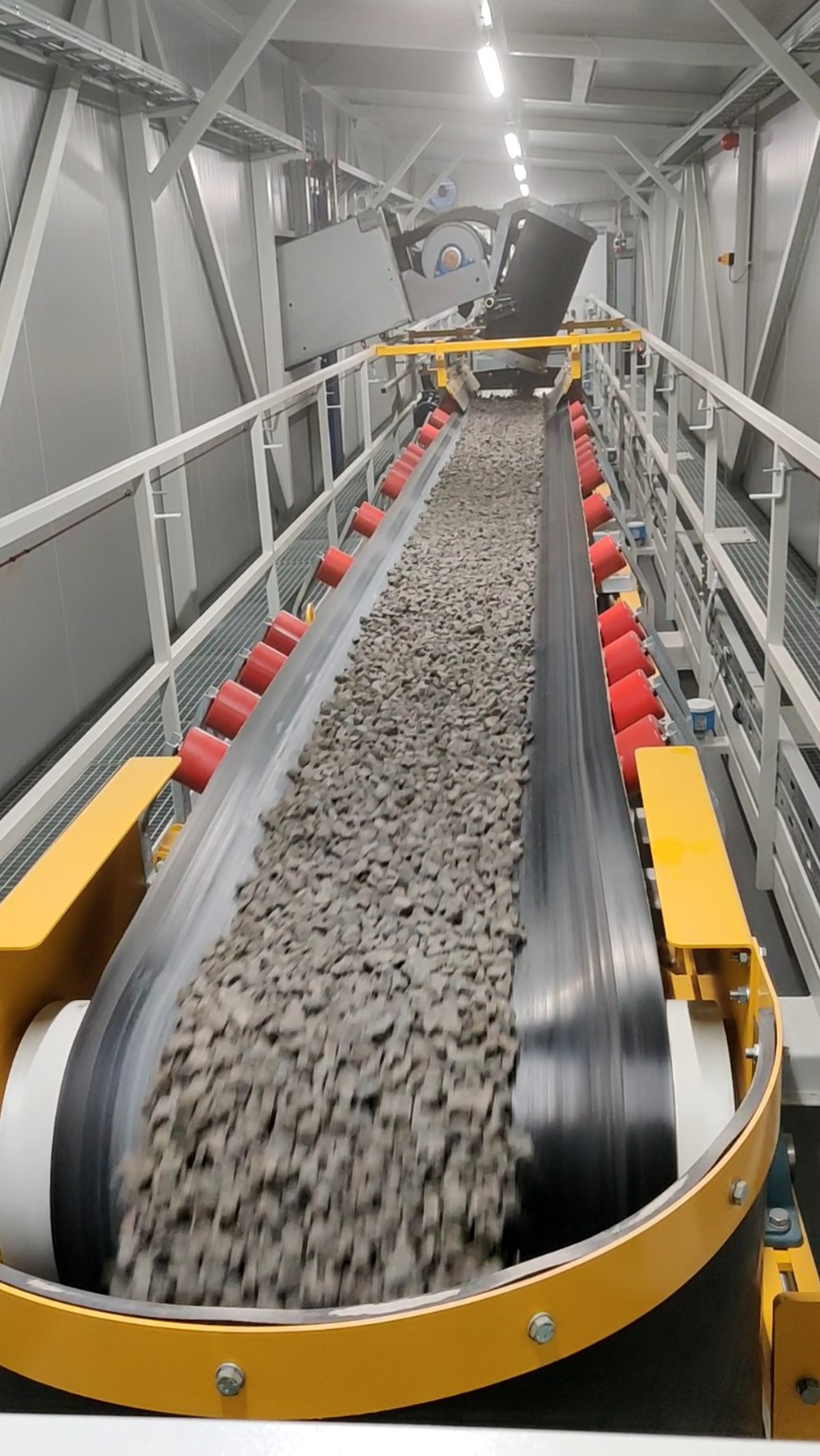 The need to go big
To cover growing demands, Betong Øst wanted to have sufficient capacity for storing aggregate at the new plant. Large aggregate silos also make aggregate moisture management easier, give flexibility to production planning and guarantee homogenous and uniform aggregate at all times. So, the company decided to go with six silos – each with a capacity of 65 m3 (85yd3).
A 40-meter (120 feet) long lifting conveyor with a smooth rubber belt was selected as the most suitable for the spacious Rudshøgda site. The conveyor lifts aggregate from the receiving hopper onto the distribution conveyor, which then transfers it to the selected silo.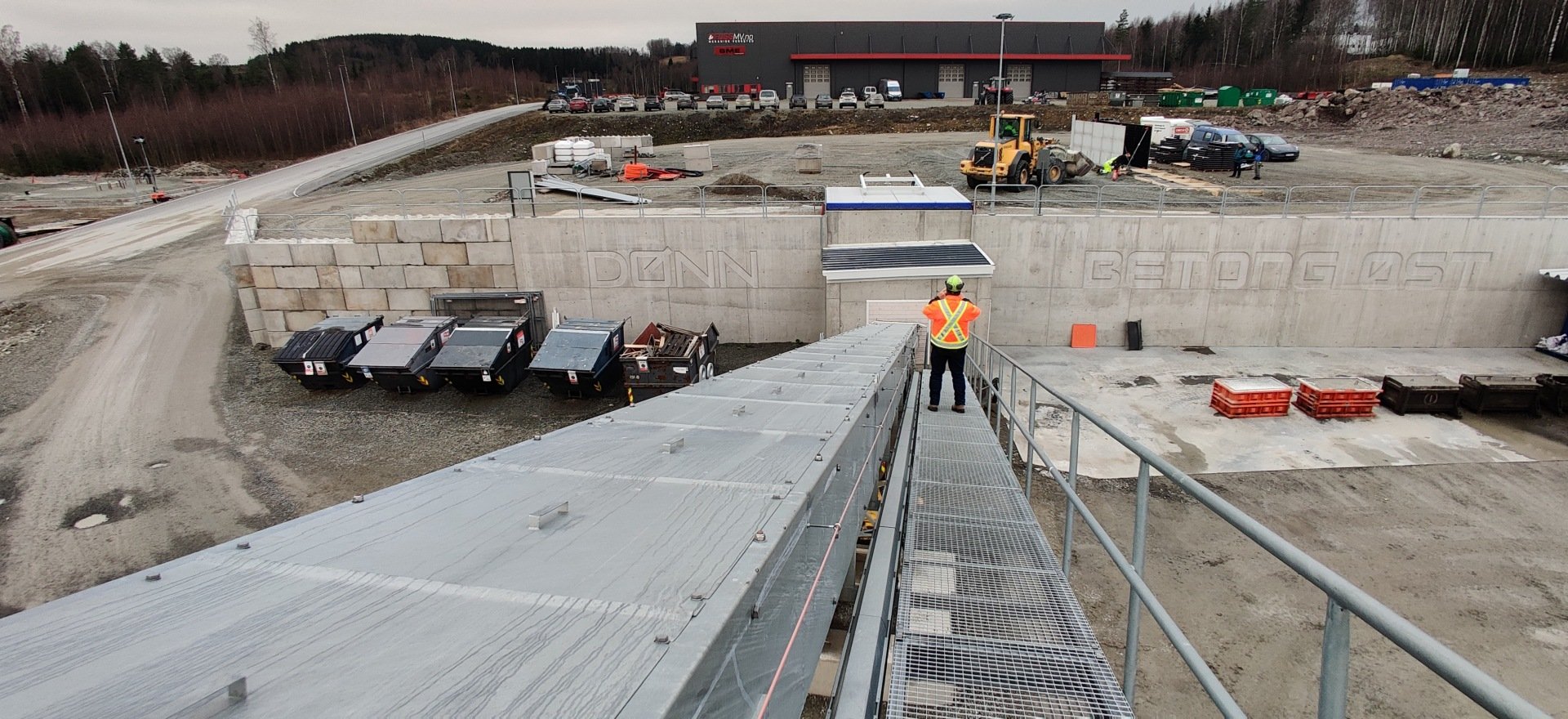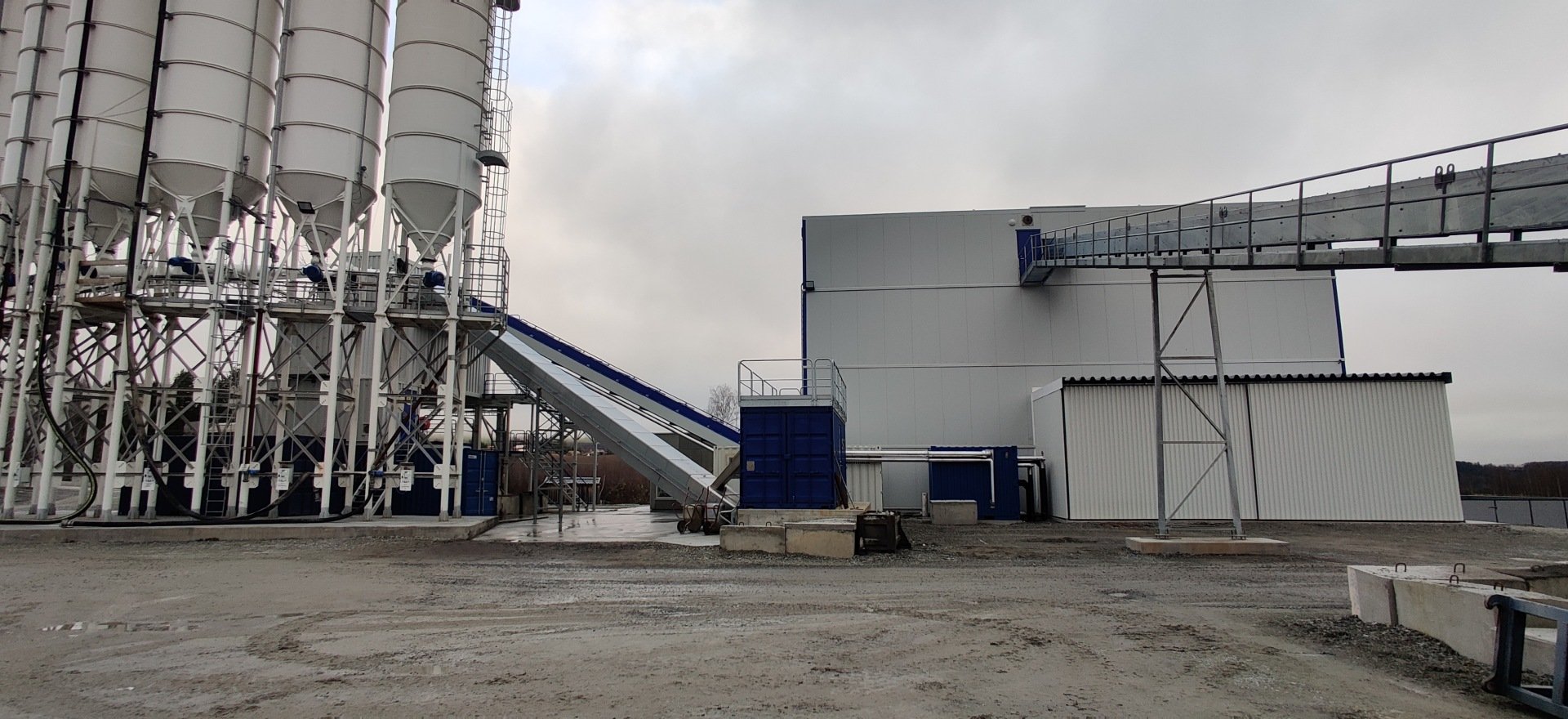 Doing things differently
During commissioning, Betong Øst decided to replace part of the pedestal containers under the mixer with a steel beam structure. This allowed good visibility of the mixer's discharge hopper directly from the control room.
In addition, the natural specifics of the new site made it possible to embed the receiving hopper into the embankment. As a result, trucks delivering aggregate have their own bordered area. This significantly enhances safety on site and makes truck traffic as smooth as possible.
When it comes to other specific designs for this project, Betong Øst wanted the automatic steel fiber to be fed directly into the discharge hopper under the mixer. Tecwill had provided this kind of solution for other customers earlier. The solution has proven very effective when you do not want to dose fiber with aggregate into the mixer.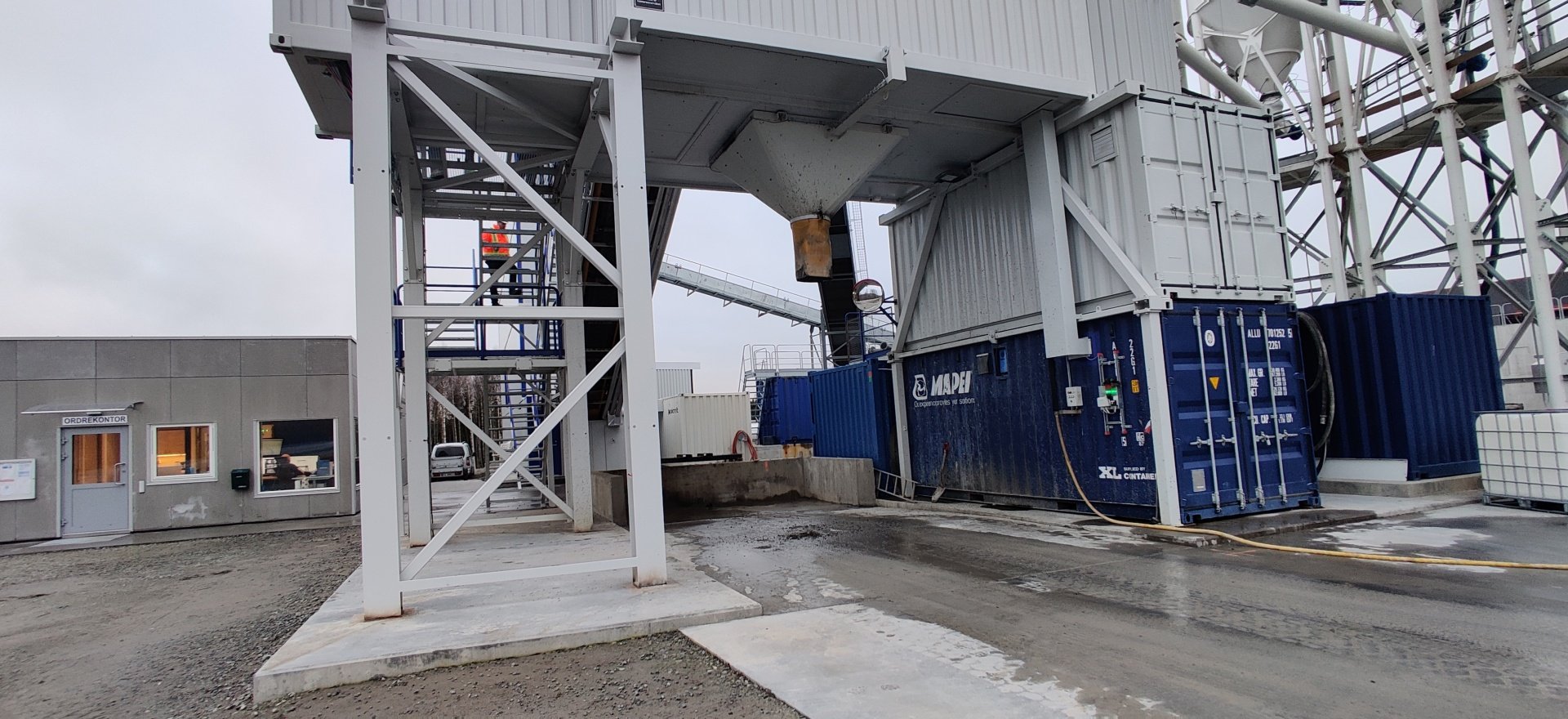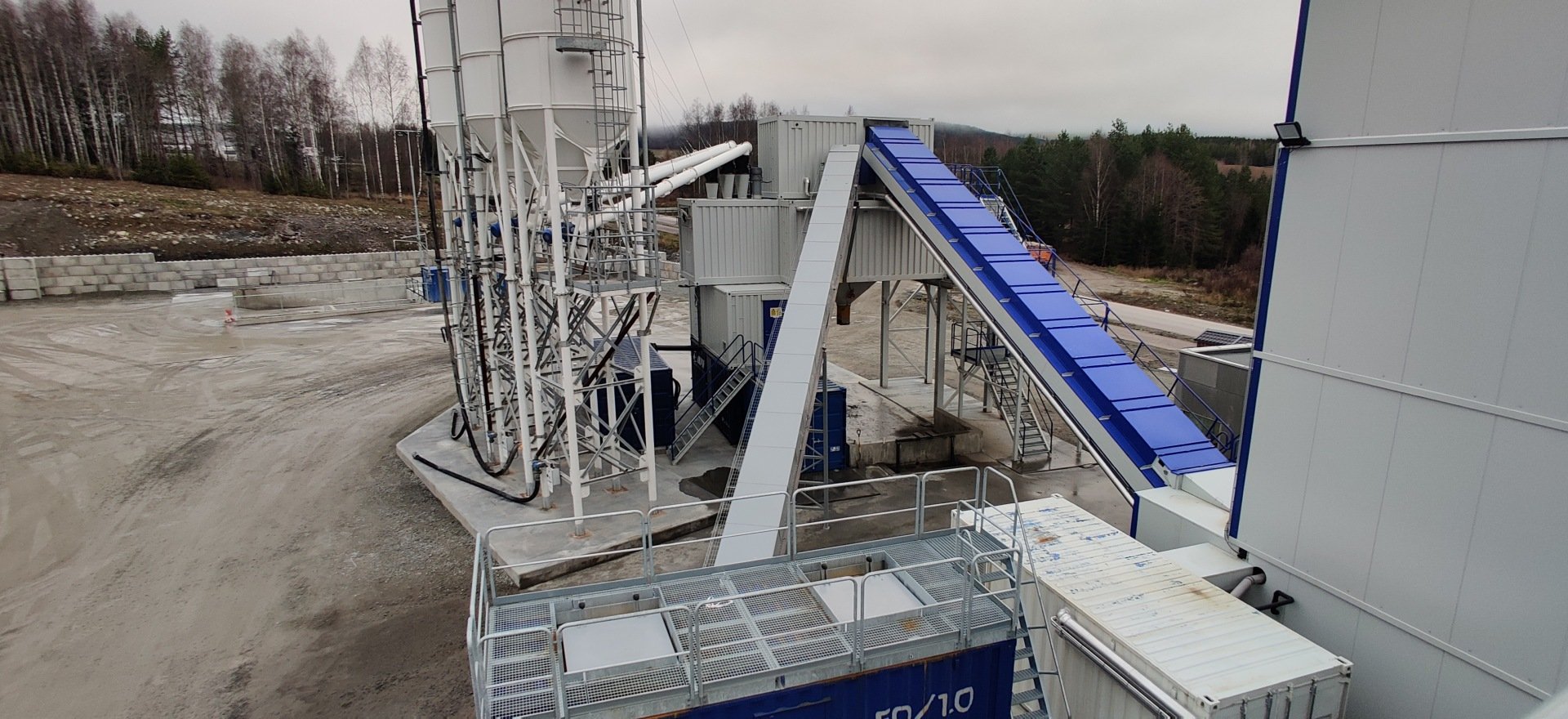 A sea container with two feeders is used as the fiber container. The fiber dosing is fully automatic. The fiber sacks are lifted above the container with a wheel loader and emptied into the feeders through the opening hatches on the container roof.
The quality to impress
A little over one year has passed after the plant has been launched, but results did not take long. "Clean and efficient, the concrete mixing plant offers good functionality. It has particularly well-marked connections, switches, connection points for cables and good safety systems that enable safe work and maintenance," says Bakkestuen.
To date, Betong Øst has produced many different concrete mix designs with Tecwill's Arcamix 2.5.
"The plant has worked exactly as we had hoped. Material dosing accuracy has been very good, and we have had no problems at all. The quality of work continues to impress us," he sums up.
Concrete barbecue
While in Norway, no project can do without a barbecue. Once everything was completed, the joint team enjoyed great food and created good memories.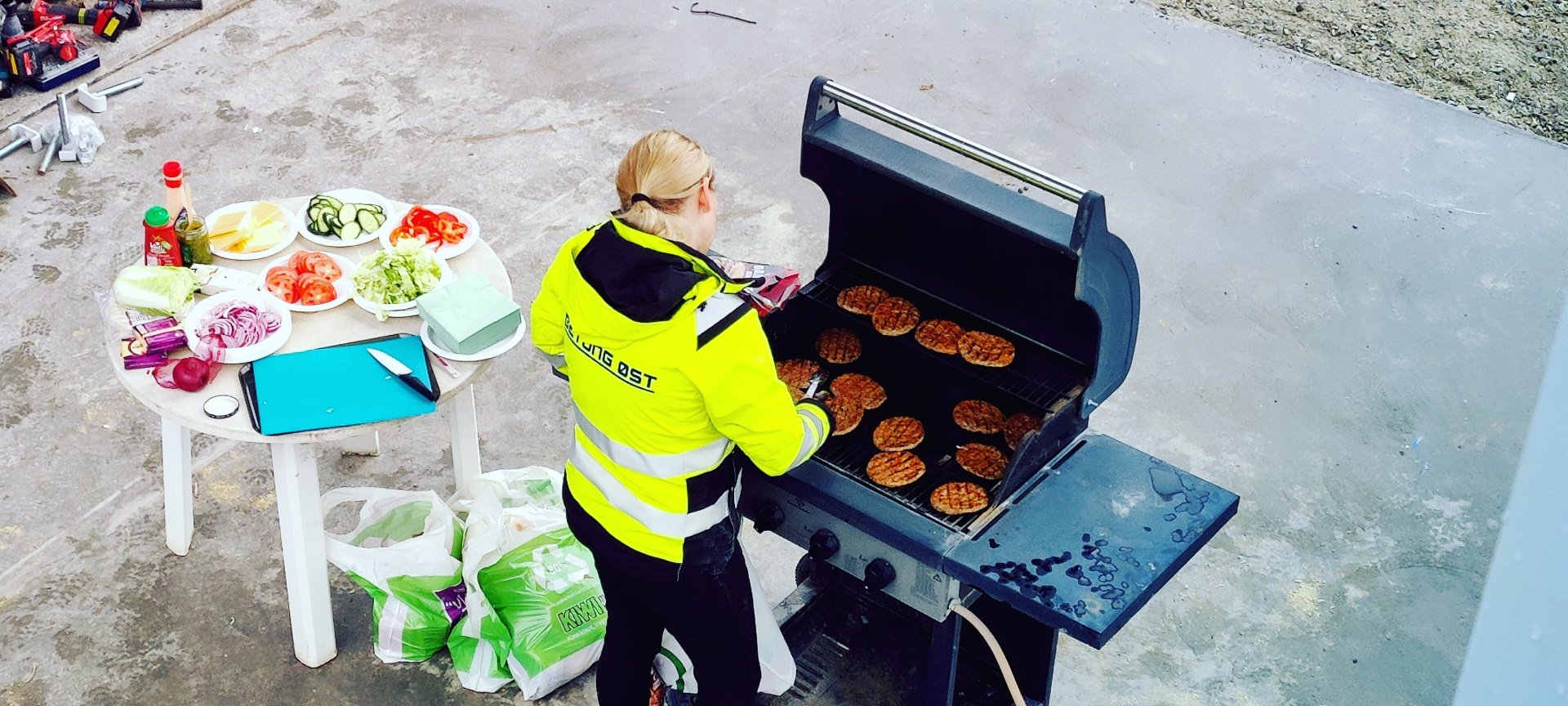 Want more information?
Download the Arcamix concrete plant brochure.
Watch the video of the Arcamix concrete mixing plant.