Arcamix 4,0 concrete mixing plant features:
· Relocatable modular construction
· Pre-wired and plumped and factor insulated winter plant
· Improved and effective "flying" aggregate dosing and weighing system
· BHS high quality twin-shaft mixer with a 4,0 m³ batch size
· Fully automatic fiber dosing system
· Water scales for clean water and recycling water
· One receiving hopper and VERTEC aggregate bin filling system
· Cement silos, storage container, additive containers painted in the customer's colours
· High pressure washout system for the mixer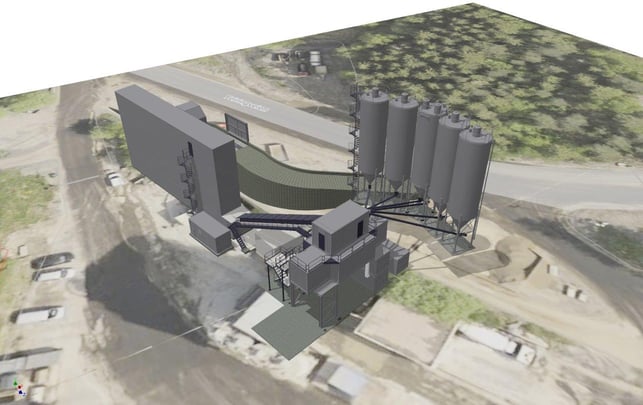 Huge Arcamix to a small footprint
When we first time visited the customer to the site in Lorenskog we saw that the available space for new concrete plant is quite narrow. Site is located between the road and buildings. Together we started to the layout planning. Because of the narrow plot, the starting point was to execute the lifting of aggregates with a compact Vertec vertical conveyor. Vertec fits to very small footprint, its insulated and have very reliable operation at cold weather. Plant is located out of the Oslo city center, so daily production volume will be big. Therefore, the needed capacity for aggregate bins and cement silos must be also huge.

Challenges along the way
It can be said that this was not actually the simplest project. Main Arcamix mixing unit was showed at the Bauma trade fair in Germany. Aftre Bauma mixing unit was shipped to Olso. Customer had some challenges applying the construction permits in the city area. After getting all necessary permissions, the installation of the plant started. And then on March 2020 come COVID epidemic with travel restrictions. The corona virus really tried to test everyone's patience. Despite all this, both parties were very pleased that the communication and cooperation remained at an excellent level throughout the delivery project.
Plant was started up remotely online, that is possible when having pre-assembled and factor tested plant. Pre-wired and factory installed modules are easy to install, and they can be easily connected with rapid connectors. Start-up of the plant can be done online.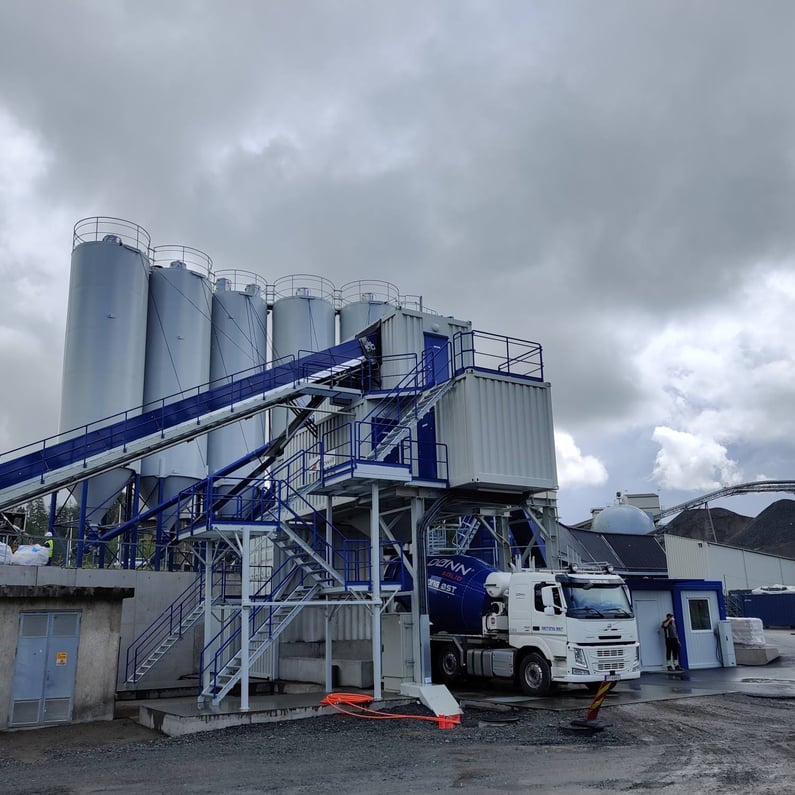 Fibre dosing system
In this delivery project, the fibre dosing system was placed in front of the station, next to the binder silos. The fibre is first dosed and then lifted by a conveyor above the mixing unit, from where it falls along the tube under the mixer into the discharge funnel. The fibre feeders are mounted on top of the scale-sensors, so that the control system automatically receives information about how much fiber has been dispensed. The most common use for fibre concrete is still floor castings or tunnel shotcrete. The advantages of fibre concrete include e.g. slight need for reinforcement and minimization of the work required to do reinforcement.