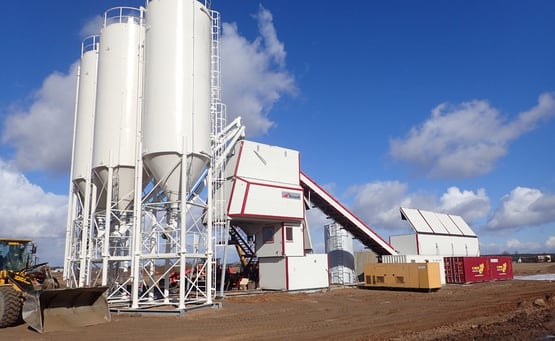 SUPER COBRA C120 model is the mobile concrete mixing plant from Tecwill that guarantees one of the highest production capacities.
The plant supplied to Kruzbet is fully winter equipped including the effective TurboCobra heating system.
The plant didn't require any concrete foundations, all modules including the binding agent silos were installed just on mobile steel frames. This way the customer was able to decrease the cost of foundation works, and at the same time the plant could easily be moved to another location.
The SUPER COBRA C120 mixing plant was installed next to end of road S61 that is part of the "Via Baltica" route. The construction work for that road will be continued soon, hence the plant is strategically located and will be able to supply concrete for that project if necessary. However, until then the plant mainly produces ready mix concrete for local customers.
The plant was factory tested and all the modules fully equipped before the shipment to Poland. One big advantage of the COBRA series is the fact that the winter equipment doesn't need to be disassembled when moving the plant to a new location. SUPER COBRA C120 plants are equipped with a high quality twin-shaft mixer with a maximum production capacity of 3 m3 per batch and the "flying" aggregate dosing and weighing system. The Kruzbet plant has 4 insulated aggregate bins wit a total volume of 120 m3, racks and hydraulically operated covers.
Another big advantage of Tecwill's scope of supply is highly effective TurboCobra heating system. The eastern part of Poland, where Suwałki is located, often has to cope with severe winter conditions. The winter equipment including the heating system will allow the customer to produce concrete even under harsh wintry conditions with temperatures below zero °C.
The patented COBRA structure and the steel foundation allow the customer to move the plant quickly to a new location. The time required for dismantling, transporting and reinstalling the plant will be noteworthy short, the cost for preparing the ground at the new location also will be low.