General
Fiber concrete is ready-mixed concrete reinforced with steel, polypropylene or fibreglass fibres. Fibres are added to the concrete mix during the production process, improving the properties of hardened concrete such as tensile strength, fire safety and durability.
Read more about precast concrete »
The most common applications are sprayed concrete (shotcrete) for tunneling and mines as well as concrete for concrete slabs. As building and concrete technology develops, fiber reinforced concrete is supposed to become more and more popular also for other concrete constructions. The main benefit of using fibre concrete is that further steel reinforcement can be noteworthy reduced or is not needed at all. This leads to savings of material and labor costs.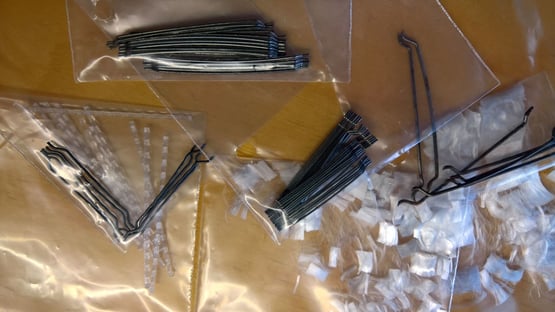 ---
How to make fibre dosing homogeneously?
Fibre dosing affects the consistency of concrete and thus its workability.
The most important thing in the production process of high quality fibre concrete is to ensure the fibre dosing accuracy and that the fibres are mixed in homogeneously without agglomerations.
The best method to dose fibres, is dosing by an automatic fibre feeder onto the aggregates, optimally onto the flowing aggregate bed. The fibre feeder is a negative scale that sends its weighing data directly to the plant control system. This is important, because the amount dosed must be shown on the delivery note.
Quality control is carried out continuously. It ensures that the amount of fibres (g) is correct in relation to the volume of the ready-mixed concrete sample (m3). The target strength can only be achieved when the amount of fibres in the actual mix as well as all other ingredients meet the set values of the mix design.

---
Does the fibre dosing reduce the production capacity of the concrete mixing plant?
Generally dosing, weighing and mixing times for a batch of concrete are extended when fibres are added, with the effect that the longer cycle time reduces the production capacity of a concrete mixing plant. However, this is not the case when using the "flying" aggregate dosing and weighing system. The system allows to dose the fibres diretly onto the relatively thin aggregate bed continuously "flowing" on the weighing belt conveyor.
The three steps needed to provide material for a concrete mix in this most modern process of the production of fibre reinforced concrete can be carried out simultaneously:
Dosing and weighing of aggregates
Weighing and dosing of fibres
Transport of "premixed" aggregates and fibres to the holding hopper above the mixer
The "flying" aggregate dosing and weighing system ensures that the production process of high-quality fibre concrete is accurate and at the same time efficient and fast, leading to a high production capacity without any restriction due to the adding of fibres.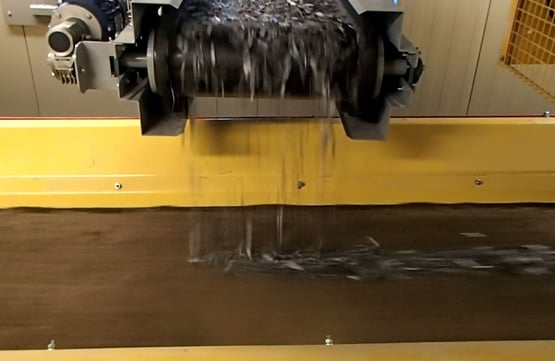 Read more about fibre dosing »
Also learn more about ready-mix concrete plant >
---
If you have any questions please do not hesitate to contact
Teemu Tuominen phone +358 10 830 2914 or email teemu.tuominen@tecwill.com